Real Madrid shot stopper Thibaut Courtois deserves to win this year's Ballond'oraccording to former Chelsea teammate Cesc Fabregas. Cesc Fabregas and the aforementioned Courtois were teammates at Premier League side Chelsea before the latter left to sign for Real Madrid when the Belgian goalkeeper had a year left on his final contract at Stamford Bridge in 2018.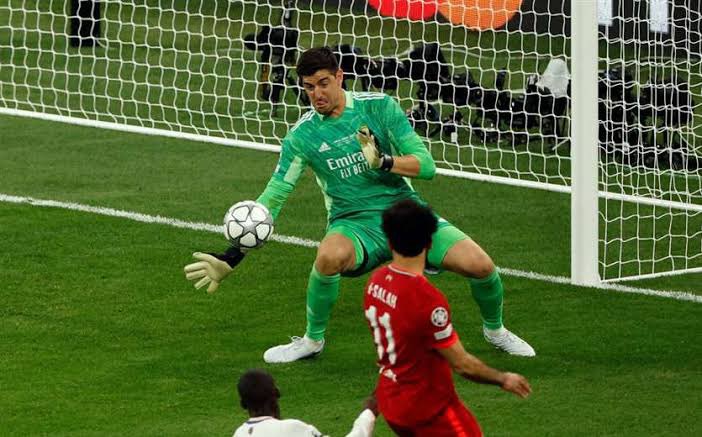 Cesc Fabregas is certain that Courtois should win the Ballon d'Or ahead of Real Madrid teammate and favourite Karim Benzema after an insane season. The Spaniard didn't mention Courtois when he tweeted about the Ballon d'Or just before the Champions League final in Saint-Denis. Fabregas said he's not a fan of individual awards before adding that the Liverpool duo of Sadio Mane and Mohamed Salah are the frontrunners for this year's edition alongside Frenchman Benzema.
In his tweet before the Champions League final,Cesc Fabregas stated that the game could decide the Ballond'orwinner out of threeoptions: Salah, Mane and Benzema. He revisited the tweet to add Courtois after his sensational performance in the final before adding that the shot stopper has done enough to win the accolades after a very good season.
Courtois was in good form from start to finish as Real Madrid bagged two major trophies during the recently finished season.
Ex-Atletico Madrid and Chelsea star Courtois kept the most clean sheet as Real Madrid reclaimed the Spanish La Liga title from neighbours Atletico Madrid. He was a regular in the Real Madrid throughout the latest La Liga season. The Belgian then produced one of the most impressive goalkeeping performance in a Champions League final to ensure that Real Madrid beat Premier League side Liverpool to win the Champions League. Courtois made a lot of saves to deny Liverpool as Real Madrid won 1-0 thanks to the goal from Brazil international Vinicius Junior in the second half.